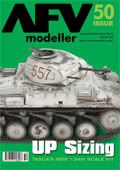 Here is the review of Volumes 1, 3 & 4 by David Parker, published in AFV Modeler No 50 in January 2010.
"As many of us know, the advent of ebay has seen an explosion of trade in archive photos. One collector of these images going under the nom de plum of 8wheels-good and specialising in PanzerIV has now released a series of books devoted to his speciality and sharing the considerable contents of his collection. To date there are 3 volumes available of 5 with two supplementary editions planned. Each of the samples we have ranges between110 to 120 pages and are extremely well produced with big images supported by captions and valuable tables documenting production changes along with other interesting background information on the original photos in the collection. I cannot recommend these books highly enough as they are packed with a wealth of previously unseen images. In the three sample volumes we have I counted only 6 images in total that I had seen before. The author also really knows his subject and this is reflected in the captions and additional information. There are more images of the early Panzer IV's in Volume 1 probably than in the total of all my other references on the vehicle combined. Unusual and distinctive vehicles abound and for the modeller this material is pure gold. The books have not been published in the conventional sense but through the Blurb website whereupon it is printed and sent out to you and the quality of publishing is absolutely first rate. The author picked this route as it allows for easy updating of the books as well as being a convenient way to make his collection public, something we applaud. It is rare to find one or two fresh images in most books so to have these volumes containing nothing but fresh images makes them absolutely essential to your reference library".
I feel quite humbled to get such a glowing review.
http://www.blurb.com/bookstore/detail/1102388#author-bookshelf